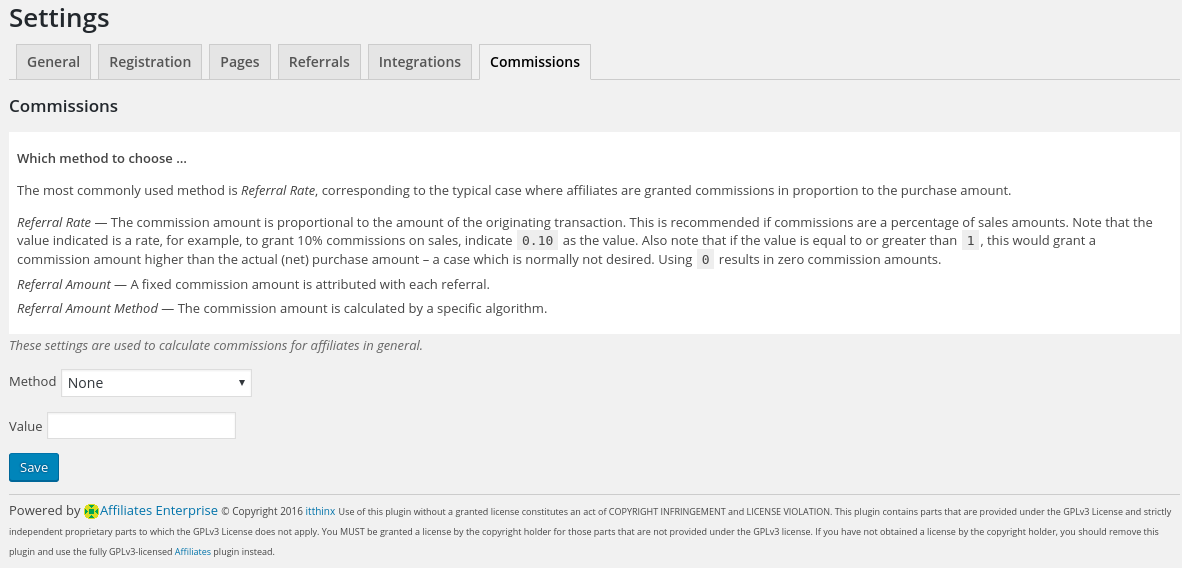 Referral amounts can be flat rates, percentage of net sales amounts and based on custom formulas. These can be set in general and per affiliate.
The most commonly used method is Referral Rate, corresponding to the typical case where affiliates are granted commissions in proportion to the purchase amount.
The following settings are used to calculate commissions for affiliates in general:
Referral Rate — The commission amount is proportional to the amount of the originating transaction. This is recommended if commissions are a percentage of sales amounts. Note that the value indicated is a rate, for example, to grant 10% commissions on sales, indicate 0.10 as the value. Also note that if the value is equal to or greater than 1, this would grant a commission amount higher than the actual (net) purchase amount – a case which is normally not desired. Using 0 results in zero commission amounts.
Referral Amount — A fixed commission amount is attributed with each referral.
Referral Amount Method — The commission amount is calculated by a specific algorithm.
Edit the Affiliate Attributes if you want to specify a different individual commission per affiliate.
Product rates
You can set referral rates for products at your online store. This feature is available with the WooCommerce integration plugin and the Jigoshop integration plugin.