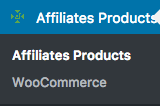 The Affiliates Products extension helps you to grant automatic commissions to an affiliate for specific products. This is useful for vendor shops and shops that sell products for which their partners should earn commissions on every sale on certain products.
When a product assigned to an affiliate is bought, a referral will be recorded for the affiliate.
Note that this is different from an order that was referred by an affiliate. The affiliate assigned to a product with this extension will earn a commission, whether the affiliate has referred the customer or not through an affiliate link or coupon.
Also note that affiliates may still refer customers and will also earn commissions on referred sales of products that are assigned through this extension.
Installation
Upload the plugin zip file through Plugins > Add New > Upload on your WordPress dashboard.
Activate the Affiliates Products plugin.
Setup
Affiliates Products integrates with WooCommerce. This will be displayed under Components and the option will be available in the plugin menu.

You can enable the option to Automatically assign new products to their author and your new products will be assigned to the affiliate that created them. Set the default commission rate for new products here if desired. Whenever a new product is created, this rate will be used.
Example: If a default rate value other than zero (0) is set, it will automatically be assigned to new products. Use 0.2 for a 20% default commission rate.
Press Save to store your settings.
Integration
With WooCommerce activated on your installation, the equivalent menu item will be displayed under Affiliates Products > WooCommerce. Here you can assign commission rates for products.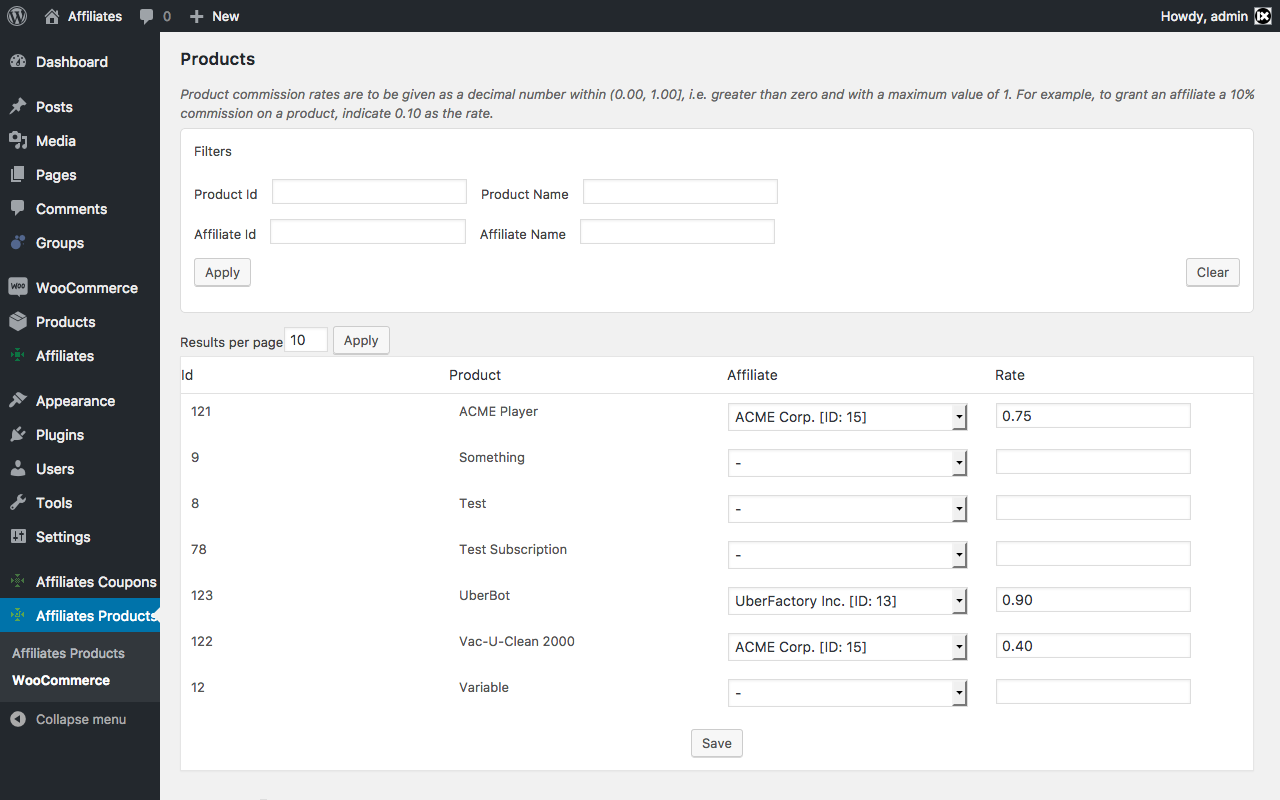 The products list will be displayed where you can assign a product per affiliate.
You can narrow down the results with the Filters displayed on top of the product list.
Product Id: You can input the id of the product to locate a specific product.
Affiliate Id:  Input the id of an affiliate as displayed under Affiliates > Manage Affiliates
to locate entries related to a specific affiliate.
Product Name: You can input the name of the product to locate here.
Affiliate Name: Use this field to input part of the name of the affiliate as displayed under Affiliates > Manage Affiliates and locate entries related to matching accounts.

After setting a filter, press the Apply button to display the results. All filters can be reset by using the Clear button.
You can also choose how many Results per page will be displayed, by entering the desired number and pressing the Apply button. Default value is 10 products per page.
For the desired product:
Select the Affiliate name from the list, or "-" to leave the product unassigned.
Set a commission rate, 0 for no commission or ie 0.1 for 10% commission.
Press the Save button.
When the product is sold, the assigned affiliate will be granted a referral amount that equals the product price multiplied by the commission rate set for that product. The same affiliate can be assigned to more than one product(s) while each product can belong to only one affiliate.
Here is an example view of referrals granted through products that were assigned through this extension: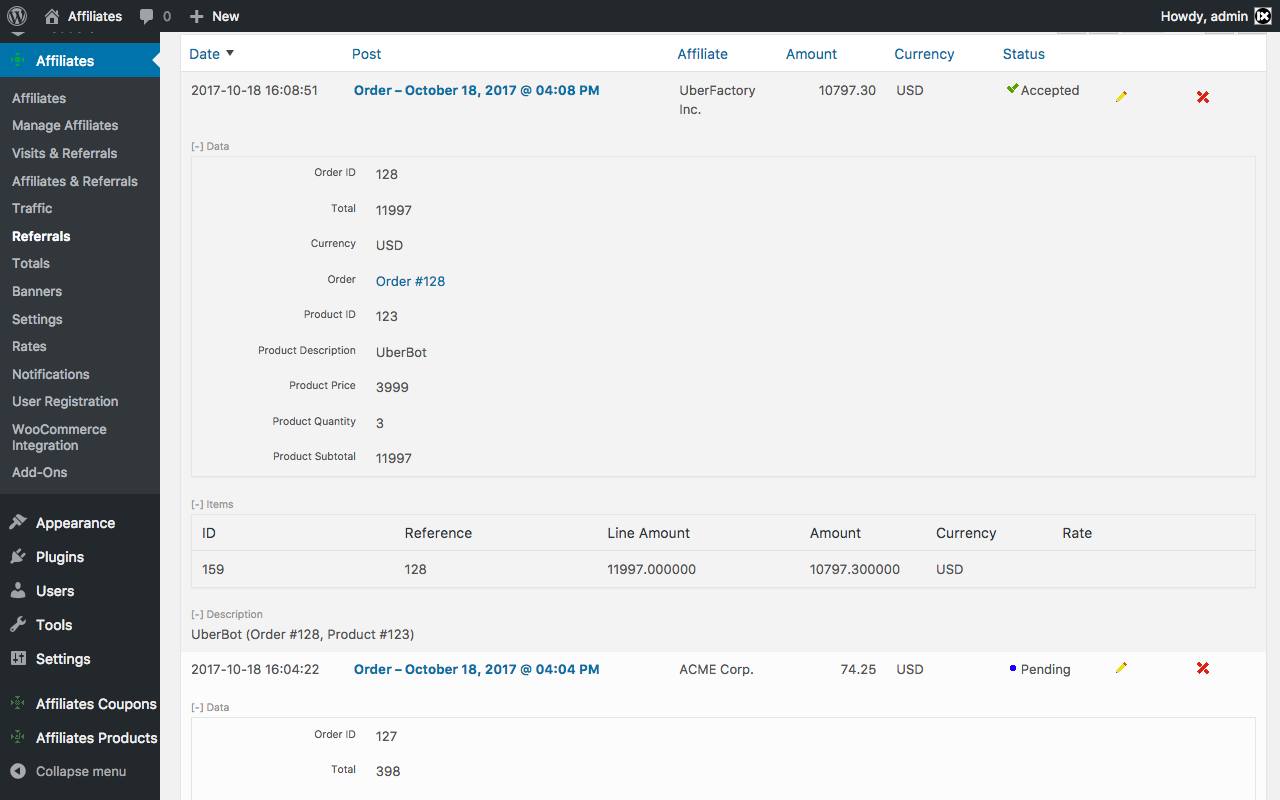 Important: Please note that automatic commissions apply even when the product sale has been referred by an affiliate. In this case, there will be two referrals recorded for the same order. One commission will be granted to the assigned affiliate and one to the referring affiliate.
Example: Product A is assigned to Affiliate A. Affiliate B refers a sale for product A. There will two referrals –  one referral recorded for Affiliate A and one referral for Affiliate B.
You can obtain the accumulated amounts for commissions granted as usual in the Totals section. Any affiliate's commissions, whether granted by direct assignment to products with this extension or regular referrals will be taken into account.