Page generation
You can let the Affiliates plugin generate an Affiliate Area page for you. Go to Affiliates > Settings and press the Generate button.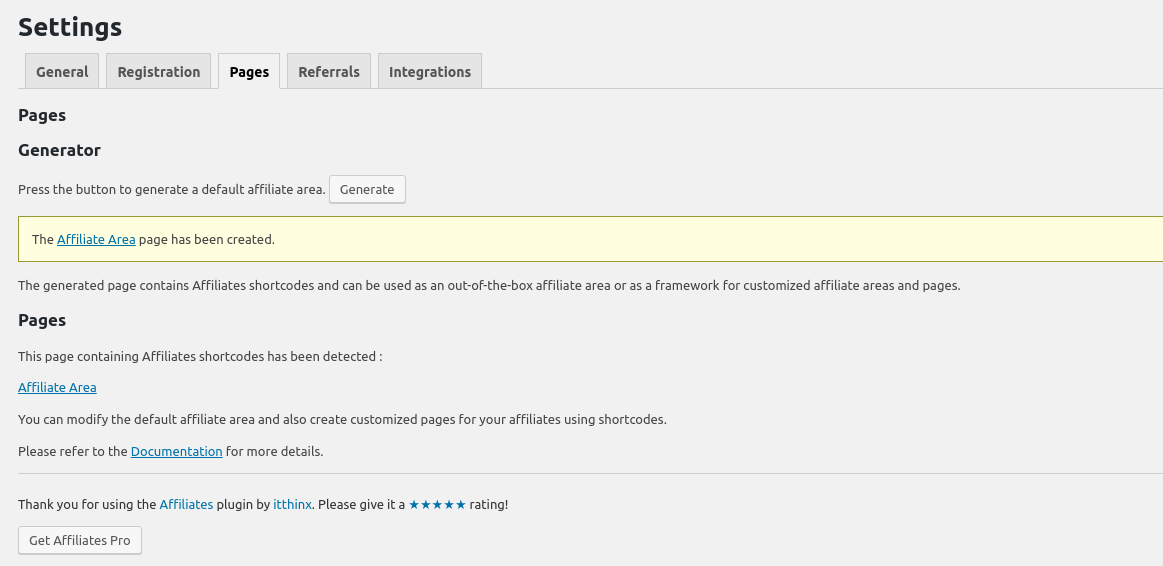 You will find a new page titled Affiliate Area on your site, which includes a login form, affiliate registration form, information about an affiliate's performance and the affiliate's link as well as a link to log out at the end of the page.
Now you can let your affiliates sign up directly from the Affiliate Area or start adding affiliates manually and provide them with affiliate links to your site.
The affiliate registration form also allows to specify a link to the terms and conditions of your affiliate program.
Affiliate registration form
If your affiliate program is open to practically anyone who wishes to join it, you will need to provide a form that your future affiliates can fill out and submit to join.
Affiliates provides two ways to do that. You can create a page and embed the form using a shortcode or you can use a widget.
Existing users are able to join the affiliate program using the form as well. Once logged in, they can submit the form and join.
If you do not want anyone to be able to join your affiliate program you can add affiliates manually to your site.
If you do allow visitors to join your affiliate program automatically, you can use either the shortcode or the widget.
Using the shortcode
If you choose to embed your affiliate registration form on a page you need to use the shortcode: [affiliates_registration /].
This shortcode provides the following fields: first_name, last_name, user_name, user_email, password and any further field previously created. See the Settings > Registration > Registration Form.
      A precondition for the affiliate registration forms to be accessible for visitors is that your site allows them to register. If registration is not allowed, you will see a message saying Registration is currently closed or something similar.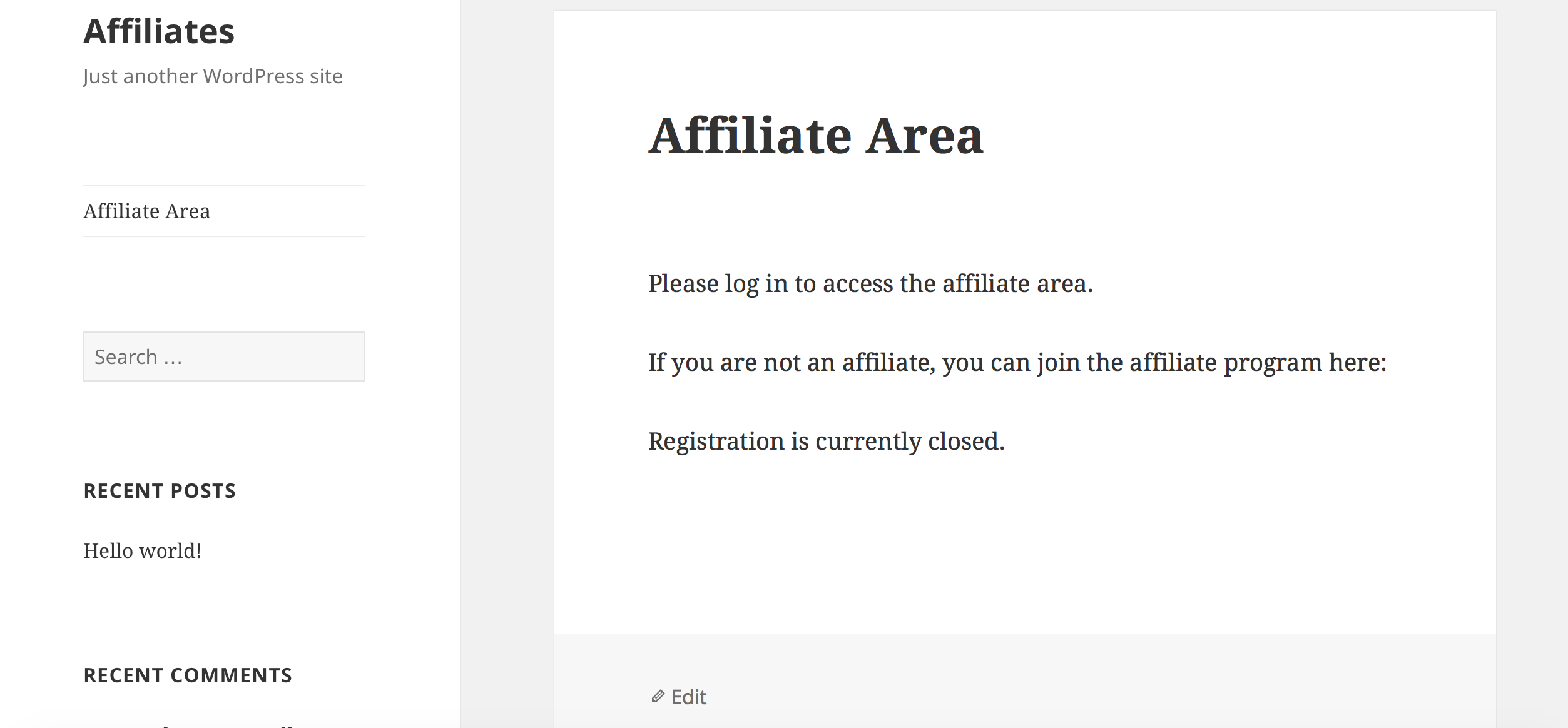 In that case you need to go to Affiliates > Settings, tick the checkbox under Affiliate Registration that says Allow affiliate registration and hit Save.
      Recommendation: Instead of using the attributes below, use the shortcodes which provide a much more flexible way to handle redirection and how the registration/login is presented to visitors.
The shortcode allows the use of the following attributes:
 is_widget : Must be set to true if the shortcode is used in a widget. default: false
registered_profile_link_text : Profile link text to be displayed for registered users after signing up for the affiliate program.
registered_profile_link_url : Profile Link for registered users after signing up for the affiliate program.
redirect : Whether to redirect after registration. default: false
redirect_to : Redirection URL.
terms_post_id : ID of the post with affiliate terms and conditions.
Example: Assuming your terms and conditions page has an ID of 5, use the following shortcode to embed the registration form outlining the terms and conditions on that page: [affiliates_registration terms_post_id="5" /]
Using the Affiliates Registration Widget
Go to Appearance > Widgets and drag the Affiliates Registration widget to a sidebar of your choice.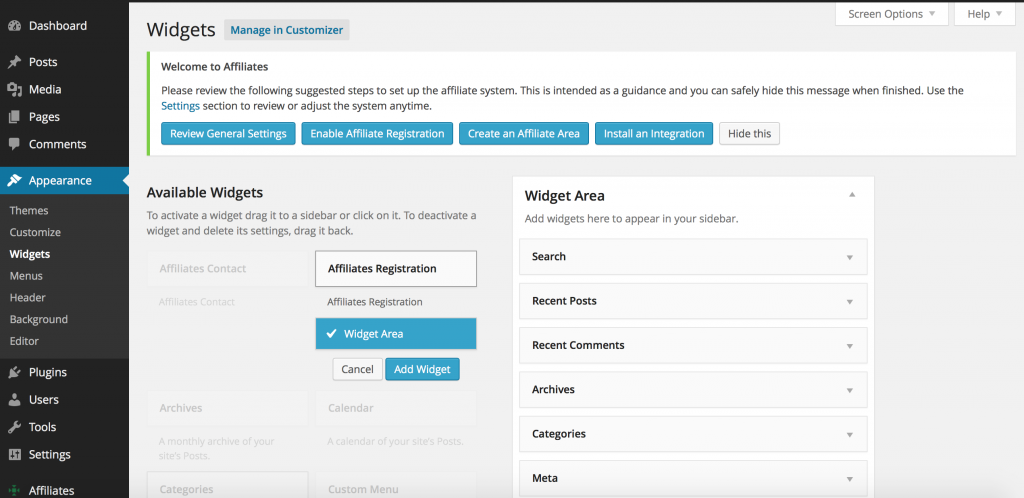 Normally affiliates are required to accept the terms and conditions of your affiliate program.
Create a page that details these.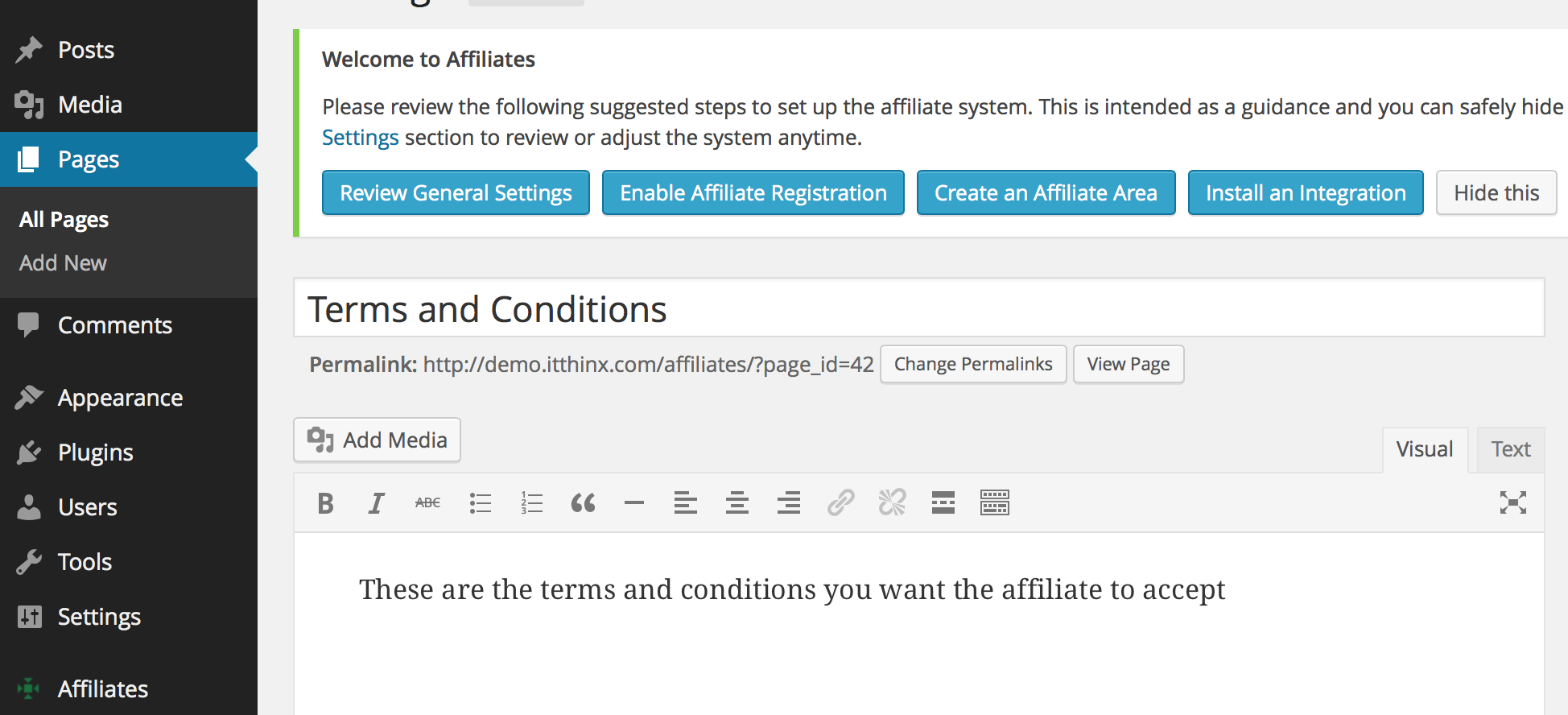 Write part of the title of that page or the post ID in the widget's field titled Terms Page or Post ID and press Enter.

Write a title for your registration form if desired.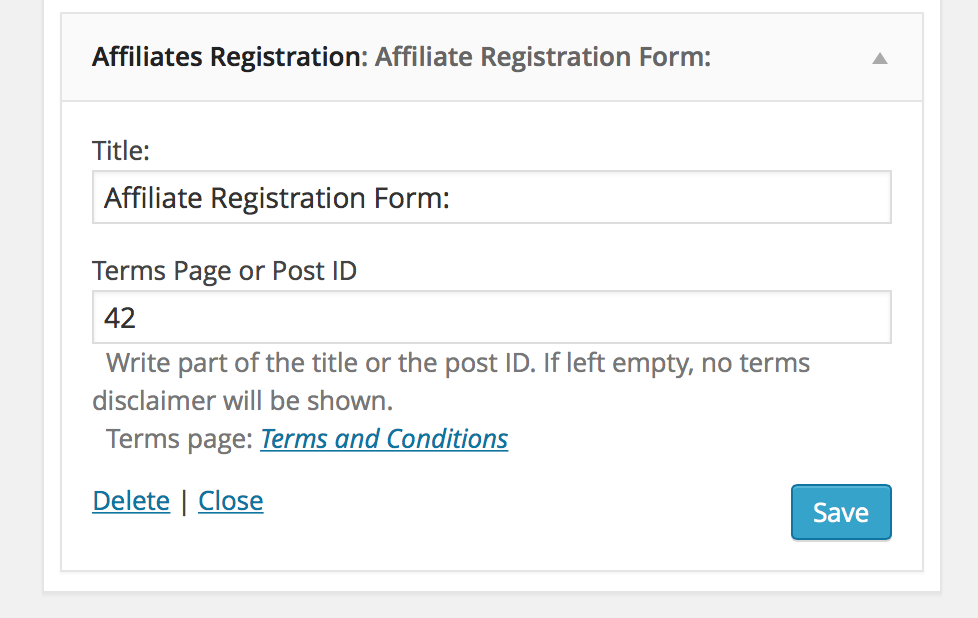 Hit the Save button and this page will be referenced when the affiliate registration widget is displayed.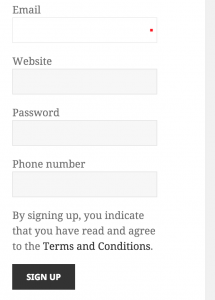 Note that only one registration form will be active.
You can edit the generated page and adjust it according to your preferences. The affiliate information is provided through Affiliates' shortcodes embedded on the page.
If you are not familiar with the usage of shortcodes, it is also a good example of how to use them.
You can edit the page and adjust it according to your preferences. Please refer to the shortcodes documentation.
Affiliates Pro and Enterprise provide additional shortcodes that can show extended information to affiliates.