Affiliate registration
Visitors can sign up with the affiliate program when registration is enabled for the site and the affiliate registration form has been placed on a page or as a widget. See Affiliate registration forms and pages on how to set up a registration form.
When a visitor is interested in joining the affiliate program, they fill in the registration form and receive an email message indicating the username and password that allows them to log in. The notification is enabled by default and can be disabled through Affiliates > Notifications.

New affiliate status
The site administrator can also choose the status of new affiliates registering. This status can be either Active or Pending. Status for already registered affiliates can be altered under Affiliates > Manage Affiliates by editing the desired record.
Registration form
This setting provides the following default fields which can be disabled but not removed:
first_name : The affiliate's first name.
last_name : The affiliate's surname.
user_login : The user login. The user's email address will be used if this field is disabled.
user_email : This is required registration information and thus the main field.
password : The affiliate can choose her/his own access password. If this field is not enabled, a password will be generated automatically.
Field labels are shown on the registration form, affiliate profile and user profile.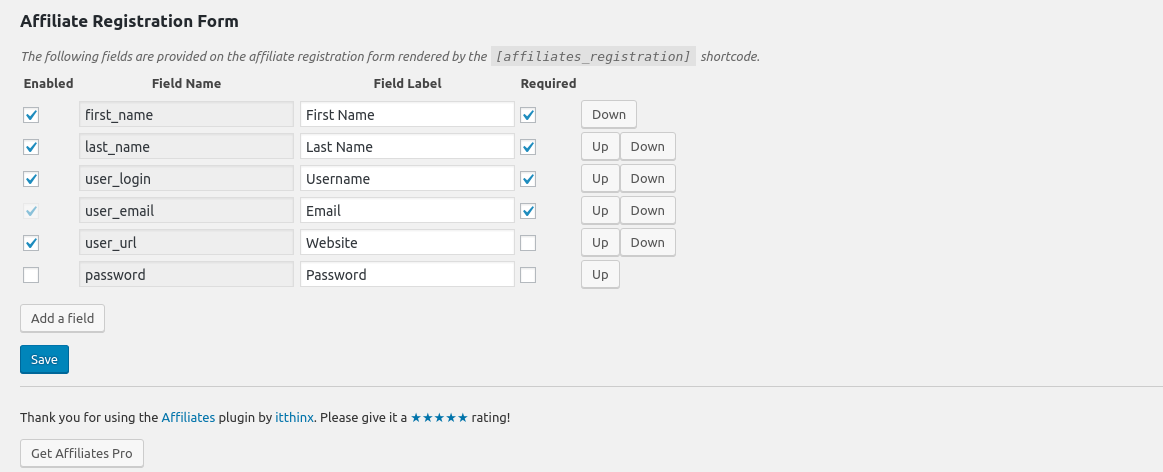 You can also add any extra field you may need to include in the registration form. Field names can be lower case letters, numbers and underscores. Examples: street, city, country, tax_id, company, phone …