Groups Restrict Categories enables access restrictions for all supported* taxonomies by default. For a standard WordPress installation, these would be at least Categories and Tags.
To review the current settings and the taxonomies for which access restrictions are enabled, go to Groups > Restrict Categories on your WordPress Dashboard.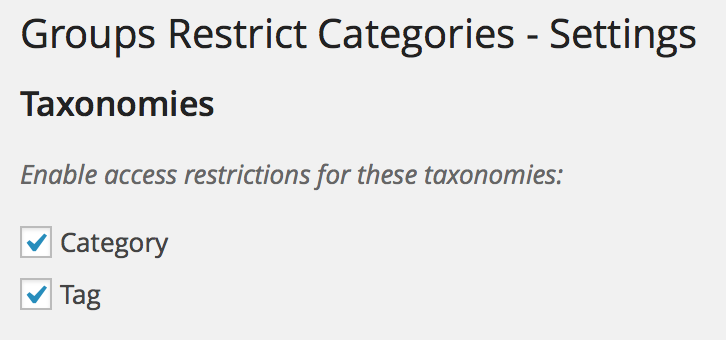 Taxonomies
Further taxonomies can be defined, usually by other plugins and sometimes within themes, and it's likely that you want to be able to enable access restrictions on these, too.
For example, if you are using WooCommerce, in some deployments it makes sense to also allow access restrictions for Product Categories or even for Product Tags. This can be useful if you have certain products which should only be available to distributors or other specific customer groups, and you don't want to restrict every single product individually.
Other plugins and extensions may also define their own taxonomies. If they comply with the requirements to be handled by Groups Restrict Categories, you can enable access restrictions for these in the Groups > Restrict Categories admin section as well.
Here is a view on the settings from an installation that uses Groups Forums, Groups Newsletters and WooCommerce. In this case, we have enabled access restrictions on all taxonomies.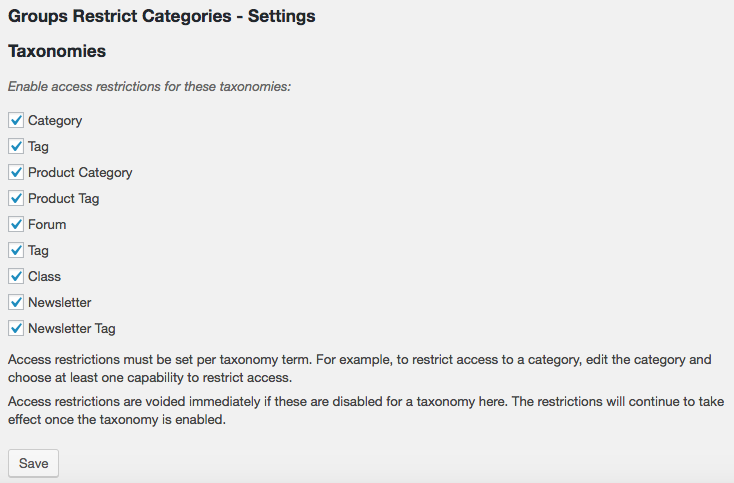 After adjusting the settings here, click the Save button.
If you have saved the settings and install an extension that adds new taxonomies after that, make sure to enable additional taxonomies here as desired.
For example, let's assume that you have already installed Groups and Groups Restrict Categories and chose to enable access restrictions for Categories and saved the settings. Later, you install WooCommerce and want to enable access restrictions for Product Categories: go to Groups > Restrict Categories, also check the entry for Product Category and hit the Save button.
* The extension queries WordPress for taxonomies that declare to provide a standard integration through the user interface to assure a consistent administrative feature set for access restrictions.
Slides
How to protect slides from Canvas, WooSlider, … :
To make access restrictions effective for slides from WooSlider (including slides shown through the Business page template with themes like the Canvas theme), please install and activate the WooSlider Filter Slides plugin.