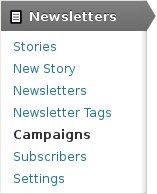 Newsletter Campaigns for Subscribers and Groups.
Groups Newsletters helps you to communicate efficiently, providing targeted information to groups of recipients through automated campaigns.
Unlike your average newsletter system, Groups Newsletters combines multiple stories in a newsletter and uses campaigns to send out one or more newsletters to their recipients. The recipients for each newsletter can be different user groups (when Groups is also used).