A contact form that doesn't distract shoppers
Gravity Forms provides a Form widget where you can select a form to display.
We will provide an example on how to exclude a form from being displayed on certain pages. The example is based on a Contact Us form which we want to exclude from being displayed on the Contact page, as that would just replicate the form if it's already being displayed in the main page content. We will also exclude it from the Checkout and the Cart page, so that the contact form does not distract customers who are in the process of completing a purchase.
Conditions
The following conditions are indicated and the option "Show on all except these pages" is chosen:
contact
checkout
cart
This is how our widgets looks like when properly configured with these conditions: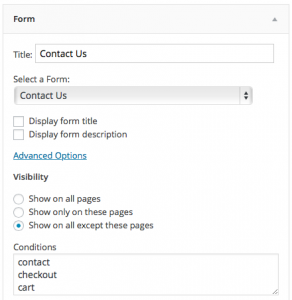 Widgets Control Pro offers additional options to restrict the conditions further. See http://docs.itthinx.com/document/widgets-control-pro/examples/gravity-forms/ for details.