1) Please follow the installation instructions to install and activate the plugin.
Once you have installed Groups Forums, a new Topics menu is added with the menu items below: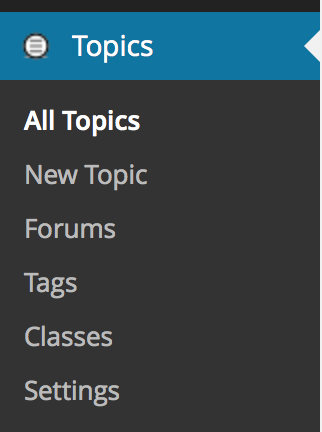 All Topics – forum topics are shown here
New Topic – to create a new topic from the Back End
Forums – forums are managed here
Tags – show topic tags
Classes – topics classes are managed here
Settings – plugin setup and configuration
2) Create essential pages and groups. Please refer to the details provided for the Settings section.
3) Create one or more forums where users can post topics, see Create a Forum.
4) Try out your new forum system and Post a Topic.
5) Review your topic and forums pages and refer to the Themes section to tweak your theme templates if needed.
6) Optionally add some Widgets related to topics and forums to be displayed on the site.
Please also review the FAQ section.